Our Riad
In 2015 under new ownership, Riad el Mezouar was painstakingly and harmoniously restored and refurbished by its British owner Romaine Lancaster, using traditional Moroccan craftsmanship and materials.
The courtyard features zelliij - intricate enamelled hand-fired terracotta tiles from the ancient city of Fez, as well as fountains, an important feature of traditional Moroccan and Islamic architecture. The roof terrace and many of the bathrooms showcase the art of tadelakt - a version of stucco, polished with black soap to give a glossy, smooth finish - a speciality of Marrakech.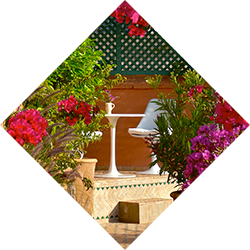 The tranquil enclosed garden, the meaning of the word riad, features a beautiful, turquoise-coloured pool around which fruit trees, a towering palm tree, native myrtle tree and poinsettia are planted, providing a safe haven for butterflies and birds.
Built in the late 17th and early 18th centuries as part of the royal palace complex, the imposing villa in the historic Marrakech media, was the residence of the mezouar, the name given to the head of royal protocol who was also responsible for drawing up the royal family tree and presumably guardian to royal secrets.
The riad remained part of the royal household until 1945 when it was bought as a private residence. It was subsequently owned by the descendants of Hammadi el Glaoui a member of an important tribe in the High Atlas region of Morocco. Hammadi's brother Thami el Glaoui, was the infamous last Pasha of Marrakech a warlord known as the Lord of the High Atlas.
Guests to Riad el Mezouar are taken by surprise by the peaceful ambience of the terrace and courtyard where they can enjoy sunlit breakfasts and lantern-lit dinners. This contrasts startlingly with the hustle and bustle of the nearby covered market and adjacent souks which fringe the historic landmarks of Marrakech. These include the Koutoubia mosque and the famous Je-maa el Fnaa square with its daily dose of snake-charmers, monkey grinders, story-tellers, false-teeth vendors and hypnotic north African musicians.